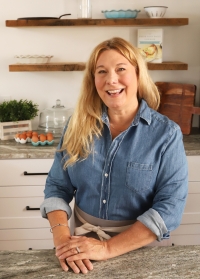 The Fresh Eggs Daily Cookbook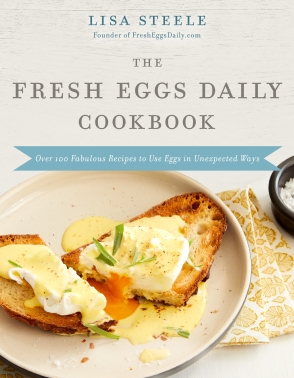 Over 100 Fabulous Recipes to Use Eggs in Unexpected Ways
Published by Harper Horizon
Named an Amazon Editor's Pick of the Month and Best Book of the Month: Cookbooks, Food and Wine.

Honorable Mention for Excellence in Aesthetic Achievement in the 2022 Readable Feast Awards celebrating the best of New England Food Writing and Cookbooks.

Think you know all there is to know about eggs and how to cook and bake with them? Think again!
Lisa Steele, fifth-generation chicken keeper and founder of the popular blog Fresh Eggs Daily, knows a thing or two about eggs. And she's ready to show you just how easy and delicious it can be to make eggs a staple of every meal of your day.
First, Lisa will tell you everything you don't know about eggs--such as what the different labels on grocery-store egg cartons mean--and bust some common egg myths.
From there, she provides you with foundational techniques for cooking with eggs, including steaming, grilling, baking, and frying.
And finally, Lisa shares her go-to recipes for everything from breakfast staples, like Eggs Benedict and a Classic French Trifold "Omelette," to breads, sandwiches, beverages, snacks, soups, salads, pasta, cakes, pies, and condiments. You'll encounter a wide variety of both sweet and savory dishes with Lisa's unique twists.
Read The Fresh Eggs Daily Cookbook to discover new and exciting ways to incorporate fresh eggs into your cooking and baking repertoire, each and every day.

EDITORIAL REVIEWS

"Fresh Eggs Daily blogger Steele lays down as many tips and recipes as her chickens do eggs in this innovative and plucky collection. Combining her expertise as a fifth-generation chicken keeper in Maine with inspiration from her Scandinavian forebears, she succeeds at her aim to share "unique and creative ways to use eggs" in delectable recipes that run the gamut from eggs in a hole to frothy cocktails. Eggs are baked inside roasted rings of butternut squash as a healthy way to bring together protein and veg, while a plate of egg yolk ravioli on marina sauce is made "deceptively simple" thanks to wonton wrappers.

Recipe headnotes contain helpful pointers—such as dry-shaking egg whites with an acid before adding ice for optimal foam in one's lime bourbon sour, and that a turmeric-vinegar soak ensures a stunning presentation for deviled eggs. In addition to sharing basic cooking and curing techniques, she weighs in on whether fresh eggs are really better (they are) and divulges insider info on how commercial eggs are graded and coded. Most unexpected of the lot—and highly useful—is the book's recipe index listed by the number of eggs needed. This will be hard to beat." - Publishers Weekly (starred review)

"This latest work from Steele will provide cooks and bakers with plenty of new ways to use eggs." - Library Journal

"Cookbook from Lisa Steele shows off the very versatile egg. Some of the more innovative recipes in the book include a Bacon and Egg Pizza with scallions and garlic that you can reheat for breakfast, and an Egg Lemon Soup, which uses chicken stock and rice." - Associated Press

"My friend Lara Hamilton, who owns Book Larder, a cookbook shop in Seattle, first turned me onto the idea of cooking eggs in cream when she told me about a recipe for cream-fried eggs in Lisa Steele's 2022 book, "The Fresh Eggs Daily Cookbook." In it, you heat heavy cream in a skillet until bubbling, slip a few cracked eggs on top of the cream, then cook it all until the cream breaks and caramelizes. You wind up with fried eggs that have liquid yolks, cream-coated whites, crispy edges and the rich aroma of brown butter." - J. Kenji Lopez-Alt via The New York Times

"A deep dive into the nuances of a single, simple ingredient, this cookbook reads like an encyclopedia and love letter all in one. If anyone were going to convince me to buy some chickens, build a roost and start gathering fresh eggs from my backyard, it would be Lisa." - Damaris Phillips, Chef, Food Network TV host and author of Southern Girl Meets Vegetarian Boy

"From the perfect fried egg to a classic clafoutis, The Fresh Eggs Daily Cookbook is the new definitive culinary source in the oeuvre of oeufs." - Beekman 1802 Boys Brent Ridge & Josh Kilmer-Purcell, authors of The Beekman 1802 Heirloom Cookbook

"Lisa's joyful passion is now part of my kitchen with her delightful recipes and expert knowledge of the simple egg! " - Tara Bench, founder of Tara Teaspoon and author of Live Life Deliciously

"You can taste the love in every bite of deliciousness that Lisa has created with these recipes." - Nancy Fuller, author of Farmhouse Rules and host of The Food Network's Holiday and Spring Baking Championships

"I have been a huge fan of Lisa and her work for many years now—I just love how she so generously shares her knowledge with others. The Fresh Eggs Daily Cookbook is beautiful, comprehensive, and brimming with her encouraging and expert advice. I didn't know there were so many delicious ways to cook eggs. This delightful cookbook is a must-have!" - Erin Benzakein, NYT bestselling author of Floret Farm's A Year in Flowers

"Steele shows you all kinds of different ways to cook recipes with eggs including steaming, grilling, baking, frying and even drinking them. Bourbon Maple Sour anyone?" - Modern Farmer
Hardcover | 320 pages | 7x9 | 978-0785245261 | February 15, 2022